We will reduce your risk riding on the road by training and practising the correct and intuitive reaction to simulated real world rider hazards.
This Course Will Cover
streetSKILLS has been developed from real world crash data to create an evidence based training program designed to reduce your risk and increase confidence on the street.
Course Content
Body Position
Vision
Line
Cornering
Hazard avoidance
Bike Setup
Braking
Course Format
6 * 20 minute classroom session
6 * 20 minute track sessions
On track Coaching
Offtrack coaching
Video Shadowing
Why do
street

SKILLS with us?
Safe Environment
The track mimics the road with its corners, chicane, hairpins and straight - a lot safer with no potholes, on coming traffic or parked cars!
Highly competent coaches
Become part of the community
What to wear?
Recommended street gear ( Kevlar pants, appropriate jacket)
Full face helmets
Leather shoes
Gloves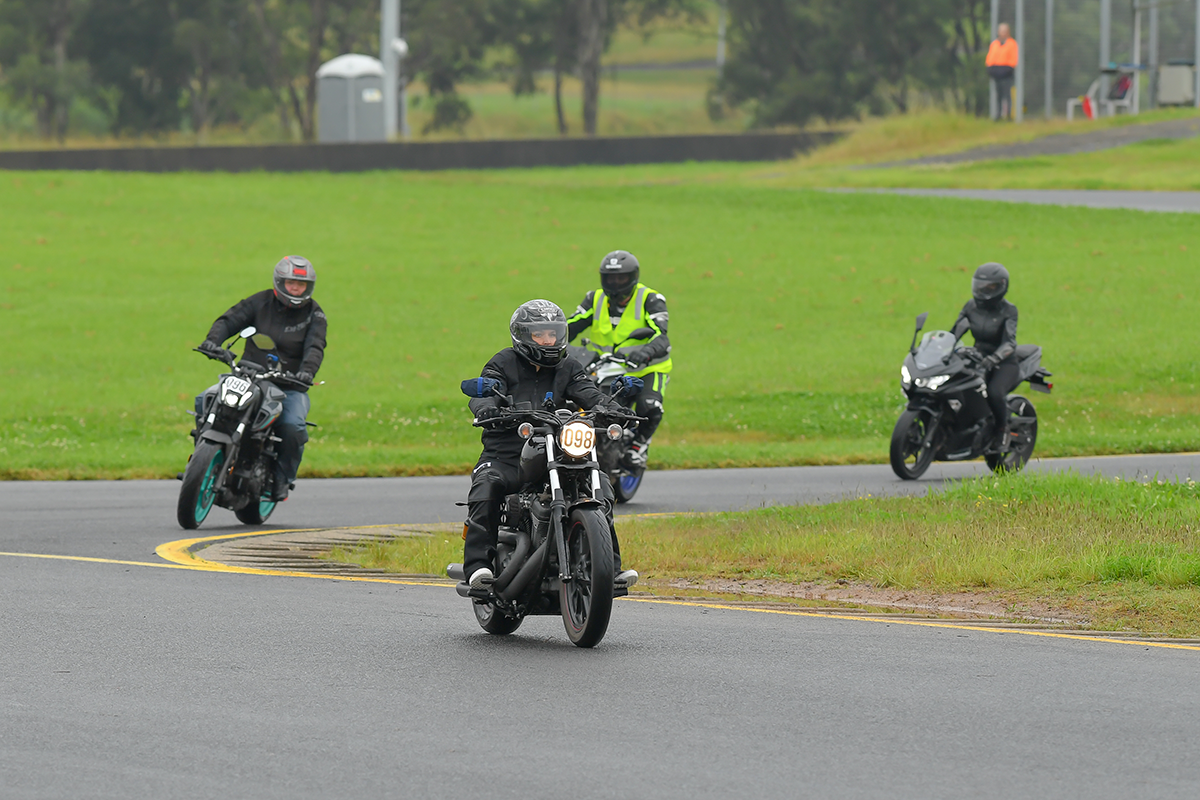 street

SKILLS 1

This course is designed for riders who are looking to gain confidence and become better, safer riders on the road
street

SKILLS 2

This course builds on Streetskills 1 and helps building advanced skills in roadcraft.
You might have been riding for a few years and already feel like you're a proficient rider. In many ways you likely are. streetSKILLS isn't about simply teaching you how to ride a motorbike. It is advanced motorcycle training in combination with the basics and suits all skill levels from beginner through to seasoned rider.
Riding a motorbike is a lot of fun, but there are also a lot of hazards out there on the road and motorcyclists can be vulnerable.
When you learn to ride these days, you are put through some standard training that cover the basics. While that training teaches you how to ride a bike, it doesn't cover advanced skills when it comes to emergency situations.That's where advanced rider training can literally be a lifesaver.
Knowing what to do in any given scenario can be the difference between having a catastrophic accident or avoiding one altogether.
streetSKILLS Courses are run on all South Circuit events in Sydney and all Lakeside events in Brisbane.
Riders Academy advanced rider course trains you to respond and respond quickly when faced with an emergency situation out on the road. The training you receive will make the correct response automatic, saving you precious milliseconds because you won't have to think about what to do. You'll just know intuitively.
Likely you've already acquired the skills to ride a motorcycle. Now it's time to add to that skillset and elevate yourself to another level when it comes to road safety.
Advanced rider training not only helps reduce the risk of you being involved in an accident, it will also raise your riding confidence levels to even greater heights.
Don't take chances out there on the roads. Know what to do when presented with an emergency situation, as it very well could save your life for the price of a set of tyres. Sign up today for our advanced rider course. It's not all about safety. It's about having fun too.
Upcoming
street

SKILLS Events